---
We all know Whataburger is from Corpus but how many knew they had a secret menu. Yeah…. well ok cool guy, did you ever take them up on that offer? We did and not only did we try some secret menu items we also took them up on the offer to create whatever we wanted! Thanks to the Texan Trail Whataburger for playing along and helping to create the WhataRight On Secret menu. Here's how it all went down, I strolled in right at 11pm and asked to speak with a manager (I'm sure she they thought F-this guy, coming to complain) told him I'm about to order a whole lot of stupid stuff so be prepared! He said bring it, so I did.
---
HONEY BUTTER CHICKEN STRIP SANDWICH
This sweet little chicken number is on their secret menu, a subtle  deviation from their Honey BBQ Chicken Strip Sandwich but that sauce changes this thing from a lunch menu item to a solid breakfast choice. Throw and egg on it and I'm sold!
Total: $6.38
---
WHATAFARM
This guy has a pretty good cult following. You can find groups on Facebook that all show love for people who order this thing regularly. What is it you ask, typically in this order; it is bacon, cheese, fried egg, burger patty and a whatchicken patty. I threw some veggies in there to because I have to keep it healthy too.
Total: $7.48
---
WHATAHASH
I was extremely skeptical of this faux burger. Whataburger doesn't have a veggie patty but what they do have are hash browns, so remove the meat and replace it with hash browns and you have yourself a whatahash. My manly ego was having a fit so I threw some bacon on it but even without the bacon this thing is delicious and probably one of my favorite items!
Total: $7.61
---
TRIPLE TRIPLE
Yes you are correct they have a triple meat burger on their menu but a Triple Triple is triple of everything. You get triple the bacon, triple the cheese and triple the flavor! You really can't go wrong here.
Total: $9.94
---
TRIPLE TRIPLE SWEET AND SPICY PATTY MELT
Did the name give you a temporary coronary? It comes with a side of one with your order. We decided to take that Triple Triple  and combine it with the Sweet and Spicy Patty Melt, I also had them throw a fried egg on there because it's Whataburger and I can!
Total: $8.54
---
BREAKFAST WHATAFARM
If you loved the Whatafarm, then you're going to get a kick out of this new breakfast classic! Order a bob (with sausage), add a Whatachicken strip and boom! You now have a Breakfast Whatafarm.
Total: $4.57
---
Whatasuicide Taquito
Why only limit yourself to 3 options for your taquito dietary needs. This has about every meat option they have; chorizo, bacon, sausage, hash brown sticks, eggs and cheese. It all went down smooth.
Total: $4.21
---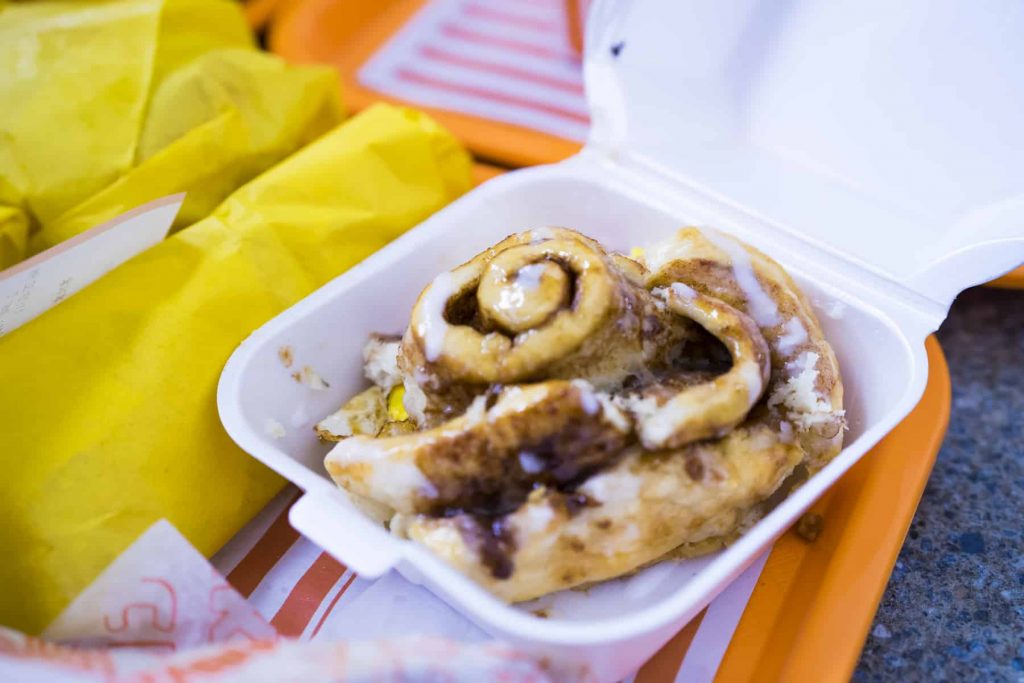 CINNABOB
You like sweet and savory things, I got you! Order a BOB tell them throw away the bun, then go slice a cinnamon roll in half and place what's left of your BOB in between that cinnamon roll. They'll look at you confused but it's worth it. Not the most photogenic item we ordered but execution is amazing!
Total: $5.61
---
SWEET & SPICY WHATACHICKEN PATTY MELT
Take the sweet and spicy burger swap it out with some whatachicken patties, throw on a fried egg, squeeze all that between Texas Toast and here we are. One giant chicken patty melt, that's a whole lot of chicken!
Total: $11.57
---
Whatachicken Fajita Taco
Ok so not everything we ordered was a winner. Nobody loves a dry taco and this fell pretty plain in taste but I do know what would improve this. If you give it a go tell them to add their jalapeno ranch sauce. I believe that was the missing ingredient to bind this concoction together.
Total: 4.86