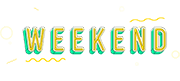 Be still my heart: it's a (not-so-total) eclipse of the heart. Corpus Christi is the last spot in the U.S. to catch Saturday's annular solar eclipse in its entirety. Look up to the skies to see, in the great Johnny Cash's words, a ring of fire. Have you already staked out your spot for this heavenly spectacle? Ever the procrastinator, I have not. But the moon dotting out the sun isn't the only thing to look forward to this weekend – don't let Friday the 13th scare you inside. Here's what's on the docket around the Coastal Bend: 
Friday, 4 p.m.
What comes to mind when I say Friday the 13th? OK, yeah, the hockey-masked serial killer Jason Voorheis … and tattoos! Get inked by Purple Ink Tattoo Shop at Wild Wolf's Friday the 13th lot party. Dress to impress in your best halloween costume and grab some treats from pop-up vendors. This family and pet-friendly party will also feature live music and food.
Friday, 5:30 p.m.
Rev up your motors for a spooktacular happy hour at Corpus Christi Harley- Davidson. Chilling thrills at this happy hour include onsite tattoos with Mac from Fine Line Tattz, free beer with the CC Harley Girls, live music by Mala Gente, a 50/50 raffle by HOG and more. 
Now through Oct. 21
Friday, 5-10 p.m.; Saturday, 11 a.m. to 10 p.m.; Sunday, 11 a.m. to 2 p.m.
Lazy Beach Downtown
Friday, 4-10 p.m.; Saturday, 11 a.m. to 10 p.m.; Sunday, 11 a.m. to 8 p.m.
BYOS: Bring your own stein to Lazy Beach (OG or downtown) to get into the spirit of Oktoberfest. Savor some brews and munch on pretzels the lazy way. (Pretzels only available at the Brewery and Cafe on the Southside.) No stein? No problem: The brewery will have one-of-a-kind Lazy Beach steins available for purchase. Prost! 
Friday, 6 p.m.
All this hubbub about spooky season and the annular eclipse, that we forgot to mention that October is Breast Cancer Awareness Month. Your wardrobe is already stocked with all the pink items from Barbie, so break them out again for a ladies night mixer to help raise funds for 'Men Wear Pink' at Prime Steakhouse. Get your pink on at an evening of fundraising, raffle prizes, specialty cocktails and more.
HOT YOGA, COLD BEER
Every Friday, 6:30 p.m.
Are you feeling a little downward dog? Eclipse season got your chakras all out of alignment? Do you feel a little more limber with some liquid help? This donation-based class is held weekly in the brew room of Nueces Brewing. Grab a cold one for some hot yoga, and we promise you, you'll feel like a happy baby in no time. 
Friday and Saturday, 7:30 p.m.; Sunday, 2:30 p.m.
Harbor Playhouse
Is this the Krusty Krab? No, this is RightOn. OK, so we're no comedic geniuses like SpongeBob, we admit. Dive down to Bikini Bottom at the Harbor Playhouse's run of 'SpongeBob the Musical'. Join SpongeBob, Patrick, Squidward and the whole crew when chaos erupts and their undersea home faces total annihilation. Can the power of optimism really save the world? Secure your tickets now for this musical – but don't wait too long, the run ends Oct. 29.
Friday, 7:30 p.m.
Creep over to the Bay Jewel for this 9th Annual Party Fundraiser, benefiting Texas A&M Corpus Christi's Art Building. This year's theme is "Critters, Creatures and Cryptids," so dress to impress with your creepy, crawliest costumes. Tickets may be purchased at the door.
Friday, Saturday and Sunday, 7 p.m.
Downtown
Grab your Scooby Gang and get ready for the fright. Fright Night Haunted House, located at 615 Mesquite, kicks off the haunting season Friday the 13th (which just so happens to be national haunted house day). For $20, purchase your ticket for a ghoulish night out. 
Fridays and Saturdays, 8 p.m. to midnight
4813 FM Rd 666, Mathis
It's spooky season, so it's time to get spooked: Visit The Hauntings of Boogeyman Haunted House for a bone-chilling, scream-worthy night. Get frightened to your core and face your fears in the Boogeyman's closet at the main haunting attraction. General admission is $25; skip the line for $40.
Now through Nov. 5
Robstown
Embrace all things autumn at Rockin' K Farms this season. From the huge corn maze to the pumpkin patch, there's photo opportunities for the fam everywhere. Have some festive fun with "The Big Tex," the farm's giant slide, and with other attractions like the cow train, apple blaster, backyard games and farm animals. The fun runs all season long, so grab your tickets here.
SOUTHSIDE FARMERS' MARKET
Saturday, 9 a.m.
5800 Everhart Road
Stock up your pantry with local fruits, veggies and more at the Corpus Christi Southside Farmers' market. This weekly market is held rain or shine in the Market shopping center at 5800 Everhart Rd. 
Saturday, 10:30 a.m.
Take a pawsitively adorable break by heading to the Oso Bay Wetlands Preserve for some quality therapy with furry, four-legged friends. At this free event, you'll have the chance to meet some of the goodest bois and girls from The Go Team Therapy Dogs. No registration required for this all-ages event. 
☀️

ANNULAR SOLAR ECLIPSE

☀️
Saturday, Oct. 14, 11:55 a.m.
Look to the skies on Oct. 14 for a celestial show. Corpus Christi is right in the line for an annular solar eclipse, where the moon will pass in between the Earth and the sun. However, the moon won't block out the sun entirely (that's a total eclipse): during an annular eclipse, the moon appears slightly smaller than the sun, creating a "ring of fire." Grab your solar glasses  – you don't want to stare directly at the sun – and find the perfect spot to look to the heavens. The eclipse, which lasts four minutes and 52 seconds, will be overhead in Corpus at 11:55 a.m. If you're headed out to the Island, the show starts a minute later at 11:56 a.m.
Friday, 5:30 – 8 p.m.
Cole Park Pier
So, what's the big deal about this eclipse on Saturday? Learn all about it at the Corpus Christi Parks & Recreation Department's Prelude to the Solar Eclipse on Friday. Pick up a pair of free solar eclipse glasses (while supplies last) and grab dinner from the onsite food trucks.
Friday, 5:45 p.m.
Cole Park Pier
Hit the ground running, get your heart pumping and snag some free solar eye gear with this pre-eclipse 5K by V-F productions. Online registration has closed, but sign up in person at Cole Park Pier before the race Friday at 5:45 p.m.
DON'T TURN AROUND, BRIGHT EYES
Got your protective eye gear in hand? Look up! View the eclipse at cosmic array at any of these interstellar events.
☀️ VALERO'S ECLIPSE EXTRAVAGANZA: It's fun for the whole family at the Corpus Christi Museum of Science and History. Experience the eclipse with your budding astronomers and partake in some out of this world activities. 
☀️ HIT THE BEACH: Stake out your spot at the Malaquite Beach Visitor's Center on Padre Island National Seashore. Arrive early and get your pass online to beat the crowds. 
☀️ VIP YOGA EXPERIENCE: Greet the sun with some sun salutations with Divine Moon Yoga at the Packery Bar and Grill. 
☀️ GET LIT: Not much into yoga? Join the watch party at Packery Bar and Grill anyway to see the show from their patio – complete with live music, drink specials and brunch (catered by Cafe Calypso). $20 scores you some eclipse glasses and a solar mimosa with brunch! 
☀️ SHOP LIKE IT'S HOT: Show up to early to La Palmera's solar eclipse viewing party to grab some free swag (for the first 100 attendees) and get some shopping done before and after the main event. Bring the whole family for some fun activities on the upper level. 
☀️ BOOK A CRUISE: Paddle out with Baywatch Tours to anchor down on the water to take in the solar eclipse.
☀️ GET CRAFTY: Hit the Southside Farmer's Market to get crafty at the fall craft fair and stay for a solar eclipse watch party. 
🌚 Corpus Christi is the last spot
in the U.S. to catch the annular eclipse in its entirety. Learn more about eye safety during a solar eclipse from
NASA
. 
Saturday, 11 a.m.
Run, walk, jog around downtown Corpus Christi for a '5K-ish' course that ends at Nueces Brewing – complete with a brew for finishers. Take home a collector's pint glass or swag item. Take a chance at winning some sweet door prizes and more while you're unwinding after the race.
Saturday, 8 a.m.
Slow and steady wins the race, or at least that's what the Tortoise and the Hare taught us, right? Take to the sand for the second annual Texas Sealife Center Turtle Trot 5K and 10K. Rise and shine before the eclipse to race your way to help this nonprofit at 8 a.m. 
Saturday, noon
Downtown Corpus Christi
Celebrate all the best food trucks Corpus Christi has to offer at the fourth annual food truck festival. Bring an empty stomach to nosh on delectable plates from mini tacos to corn cups, hamburgers to hot dogs, rice bowls to … well, you get the picture. This family-friendly festival also boasts live music, face painting and more.
Saturday, 10:30 a.m.
Heritage Park
Who says eating healthy can't be delicious? Not me! Celebrate healthy living and eating at the Corpus Christi VegFest. Veg out on plant-based dishes while learning about environmental sustainability at this free event at Heritage Park. 
Saturday, 4 p.m.
One word: puppies. Need I say more? Head down to Water's Edge Park on Saturday for the 12th annual Thomas J. Henry Bark in the Park. Support local pet rescues like Mission Pawsible, Peewee's Pet Adoption, Shelter a Mutt and the Gulf Coast Humane Society at this tail-wagging, smile-inducing event, featuring a pet costume contest, family-friendly activities and pet expo. Who knows? You may even add a four-legged companion to your family at the adoption drive. Or maybe your best bud will take home the $1,000 grand prize from the pet costume contest. This event is free and open to the public.
Saturday, 4 p.m.
Does ping pong come very natural to you? Do you play it all the time? Do you play ping pong so much, you even play ping pong in your sleep? If you answered yes to all of those questions, you're probably Forrest Gump (and the undisputed King of Pong). Claim your crown this Saturday at the Annex's King of Pong tournament. Dress to impress in your best retro table tennis digs (with prizes for the top male and female 'fits.) Just don't forget your Flexolite ping pong paddle!
Saturday, 5 p.m.
Veterans Memorial High School
Trunk or treat, smell my feet, give me something good to eat. That's how it goes right? Join Coast Life Credit Union at its annual Trunk or Treat at Veterans Memorial High School. Break out those halloween costumes early for free candy, live entertainment and a kids' korner. Proceeds from sponsorships and participants benefit the FOCUS Foundation, a 501(c)3 nonprofit.
Saturday, 3 p.m.
Take me out to the ball field, take me out with the crowd. Buy me some delicious food from the food truck market while you're there, too, please. In conjunction with movie night, the Corpus Christi Hooks will unveil this inaugural, free-to-the-public event Saturday. Root, root, root for the home team of local food trucks and small business vendors in the West Lot. $5 parking will be collected.
Saturday, 7 p.m.
Take me out to the ballpark for a movie experience unlike any other. Catch some of the newest movies – for free – at CC Movie Nights, presented by Reliant Energy. Pack up the whole family to catch a Saturday night flick on the big screen and grab some ballpark fare to complete the experience. Showtimes are at 7 p.m., and gates open at 6 p.m. Seating is open in the outfield and seating bowl. This week on the big screen: 'Top Gun Maverick'. 
Saturday, 7:30 p.m.
TAMUCC Performing Arts Center
If your day started out with a solar eclipse, close it out with some musical fireworks. Join the Corpus Christi Symphony for two powerful pieces sure to light up your night, featuring two soloists from the orchestra. Snag a ticket now to be swept off your feet. 
WATER STREET FARMER'S MARKET
Sunday, 10 a.m. to 2 p.m.
Kick off your Sunday Funday by supporting local vendors and restocking your pantries with fresh veggies, and more, when you head down to the only Sunday farmer's market at Water Street Market.  
Sunday, 10 a.m.
Rev up your Sunday morning with Cars and Coffee. Take in the hot rods with a hot cup of joe in the Coral Bean Cafe parking lot. Now, that's gotta be the best part of waking up. 
Sunday, noon
Start your Sunday funday off with a monster mash to cure Alzheimer's disease. Head over to BUS for live music, costume contests (for both people and our four-legged besties), bake sale, cornhole and more.
Sunday, 4-11 p.m.
917 S. South Staples St., Corpus Christi
BYOBPBCLC. I lost you, didn't I? Bring your own blanket, picnic basket, cooler and lawn chair to the RnB PicNik festival this Sunday to groove to the best music from the area's top DJs. DJs will spin soul and RnB hits from the 80's, 90's, the aughts and now. Heal your soul with good food, music and more at The Block. Grab your admission here (prices vary if you decide to bring a cooler). 
COMING UP
Wednesday, Oct. 18
Mark your calendars for an exciting night as Travis Pastrana's Nitro Circus lights up the American Bank center on Oct. 18. This event will surely rev up the excitement with dirtbikes, BASE jumping and exhilarating stunts. Snag a ticket now. 
RESCHEDULED
Nov. 18
Like your shows with the smooth like 'Tennessee Whiskey'? Grab your tickets now for Chris Stapleton on the American Bank Center stage. Already got your tickets for the previous event? They'll be honored next month. 
Hey besties! Have you got the deets on an event you'd think we'd be interested in? Email righton@rightoncorpus.com and diandraspicak@gmail.com. Follow us on Facebook and Instagram @rightoncorpus, and DM us there, too! We're always looking for new things around the Coastal Bend.