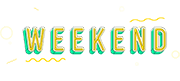 It's officially October! The only thing scary you'll find in the upcoming month in these articles will probably be my overuse of "spooktacular" or "pumpkin spice" or any other variation of fall and spooky season related adjectives. Now that we've had a taste of fall weather, I'm itching to get outside and do ALL the things. Catch me outside getting my PRIDE on during the annual parade, grabbing some scarily good deals on local artisan crafts at ArtWalk and getting lost in the pumpkin patch at Rockin' K Farms. Here's what else is in store this weekend in the Coastal Bend: 
Friday, 5 p.m.
Downtown 
It's First Friday! Take advantage of the cooler weather and head downtown for your fill of music, local vendors, food, and fun, with block parties on nearly every corner. With 14 outdoor stages, six downtown music venues, more than 100 pop-up vendors, and your favorite food trucks, this frightfully fun monthly installment will kick off your October in style.
Friday, 5 p.m.
Stop by the Art Center of Corpus Christi during ArtWalk to catch their October exhibit opening. This month's exhibits include Dimension L (50th) juried by Kent Ullberg, Liz Dumas-McMullan (Dimension XLIX Best of Show), Hilary N Germain, and the 18th annual Breast Cancer Awareness Exhibit: A Student's Perspective. 
Friday, 10 a.m. to 9 p.m.
First Friday also means free admission all day to the Art Museum, presented by Frost Bank! Grab the whole family to take in the rotating exhibits on display. With extended hours, there's no excuse not to embrace your inner Warhol or Picasso and find your way to the AMST. Bonus: Hit the AMST outreach table at Art Walk for giveaways and art activities. (I mean, who doesn't love free things?!)
Friday, 6 p.m.
Creep over to The Annex during ArtWalk for even more live music, food trucks, and some frighteningly cool classic cars.
HOT YOGA, COLD BEER
Every Friday, 6:30 p.m.
Are you feeling a little downward dog? All those planets in retrograde got your chakras all out of alignment? Do you feel a little more limber with some liquid help? This donation-based class is held weekly in the brew room of Nueces Brewing. Grab a cold one for some hot yoga, and we promise you, you'll feel like a happy baby in no time. 
SUPPORT LOCAL ANNIVERSARIES
Saturday, Oct 7th
For us, nothing is more important than local business milestones! This weekend we have two local businesses partying out in their own special way. Boarri Craft is hosting Fleischfest in their backyard. BBQ, bier, and music are all I needed to hear! At the other end of the Bay Area, you have Sew Bonita throwing down an anniversary pachanga! They're handing out some killer totes to the first 100 customers who spend $40 or more and some surprise giveaways. Cocktails, cookies, and a coffee pop-up on deck. Make sure to stop in and support our locals!
Now through Nov. 5
Robstown
Embrace all things autumn at Rockin' K Farms this season. From the huge corn maze to the pumpkin patch, there's photo opportunities for the fam everywhere. Have some festive fun with "The Big Tex," the farm's giant slide, and with other attractions like the cow train, apple blaster, backyard games, and farm animals. The fun runs all season long, so grab your tickets here.
Saturday, 8 a.m.
Get your feet a-walking and your hearts a-pumping at the annual Coastal Bend Heart Walk. Claim your spot to take the first step to save lives: Every walker who registers and every dollar donated means more research, more CPR training, more medical breakthroughs and more equitable health champions. Join the fight to eradicate heart disease and stroke by signing up or donating here. 
SOUTHSIDE FARMERS' MARKET
Saturday, 9 a.m.
5800 Everhart Road
Stock up your pantry with local fruits, veggies, and more at the Corpus Christi Southside Farmers' Market. This weekly market is held rain or shine in the Market shopping center at 5800 Everhart Rd. 
Saturday, 9 a.m. to 4 p.m.
Heritage Park
Score some goodies to make the return to the halls a little easier at the monthly installment of Heritage Park Market Days. This family- and pet-friendly market has something for everyone! 
Saturday, 9 a.m. to 3 p.m.
Cruise over to Aransas Pass for the annual Coastal Bend Custom and Classic Car Show, hosted by the Wounded Warrior Fan Club – Bayrat Chapter. Proceeds benefit local veterans and the community, so grab your ticket now! 
Saturday, 9 p.m. to 4 p.m.
Take flight at the Fall Bird Mart, featuring independent breeders and vendors hawking feathered friends, food, cages, toys and more. Stay for the huge raffle drawings, both in the morning and afternoon, benefiting the Coastal Bend Companion Bird Club. Bring the whole family for a day of fun. Admission is $6 for adults and kids aged 7 and up, $5 for adults 65 and older, and kids 6 and under get in free.
Saturday, 10 and 11 a.m.
Just typing this event listing makes me hungry. Register now for one of two Saturday classes focusing on Japanese food culture and onigiri. Learn how to make the delicious rice balls for just $10. Reserve your spot now for this delicious class. 
Saturday, 3 p.m.
OK, not gonna lie y'all: I had to look up what a plover is. No regrets. I had no idea that's what those cute lil' birbs were called. ANYWAY: Get ready for the most plover-centric excuse to flock together for some beers and a good cause. Following a three-year hiatus, CBBEP  Coastal Bird Program's  Okploverfest is back by popular demand at Nueces Brewing. Celebrate the ploveriest place in North America (that's here! Eight species of plover grace the South Texas ecosystem for some part of their lives) with Full Court Press artists screen printing on site. Find out more here or snag some merch online here. 
Saturday, 3 p.m.
Downtown Corpus Christi
Don your most colorful rainbow outfits and take to the streets to proclaim your PRIDE, whether you're part of the LGBTQIA+ community or an ally. The family-free and inclusive event starts at the Corpus Christi Art Center at 3 p.m. and marches down the bayfront, ending at a block party for everyone.
Friday, 6:30 p.m.
Date night feeling a little stale? Take your tastebuds on a food and wine journey with Chef Francesco and Sommelier Corey at Bellino's. The menu features delectable dishes paired with luscious wines for $85 per person. Make your reservations online or call 361-814-8998, specify wine dinner. Cin cin! 
Saturday, 6:30 p.m.
Do you feel the need … the need … for speed? Ride into the danger zone when you catch 'Top Gun' on deck at the USS Lexington. Break out your best 80's and Top Gun 'fits for the costume contest and get up close to an actual F-14 Tomcat – the same plane used in the 1986 Tom Cruise masterpiece. Grab your tickets now ($25 each, or $20 for members and military) for this family-friendly event aboard the Gray Lady. Feel free to bring a blanket or chair to cozy up during the movie. Note: The ship will not be open for touring during the event. Only the Flight Deck will be available for guests attending the movie.
Saturday, 7 p.m.
Take me out to the ballpark for a movie experience unlike any other. Catch some of the newest movies – for free – at CC Movie Nights, presented by Reliant Energy. Pack up the whole family to catch a Saturday night flick on the big screen and grab some ballpark fare to complete the experience. Showtimes are at 7 p.m., and gates open at 6 p.m. Seating is open in the outfield and seating bowl. This week on the big screen: 'The Super Mario Bros. Movie'. 
WATER STREET FARMER'S MARKET
Sunday, 10 a.m. to 2 p.m.
Kick off your Sunday Funday by supporting local vendors and restocking your pantries with fresh veggies, and more, when you head down to the only Sunday farmer's market at Water Street Market.  
Sunday, 11 a.m.
Kick off your spooky season with a Sunday funday dripping with fabulousness. Reserve your table for freakishly, frightening, fabulous performances from absolute queens at the Glamazon Spooktacular Brunch. Table rezzies include a complimentary buffet. GA tickets are available but do not include brunch.
SUNDAY FOOTBALL
Sunday, noon
Looking for a place to catch the whole Sunday football ticket? Rockit's will now open on Sundays to bring you all the gridiron action from the NFL. Add them to your roster of places to grab a cold one while watching the Texans take on the Dirty Birds, America's team take on xthe 49ers, or whoever you root for! (I'll take a lot of flack for this, but this event writer bleeds silver and blue.) 
MARK YOUR CALENDARS
ANNULAR SOLAR ECLIPSE

Saturday, Oct. 14, 11:55 a.m.
Look to the skies on Oct. 14 for a celestial show. Corpus Christi is right in the line for an annular solar eclipse, where the moon will pass in between the Earth and the sun. However, the moon won't block out the sun entirely (that's a total eclipse): during an annular eclipse, the moon appears slightly smaller than the sun, creating a "ring of fire." Grab your solar glasses  – you don't want to stare directly at the sun – and find the perfect spot to look to the heavens. The eclipse, which lasts four minutes and 52 seconds, will be overhead in Corpus at 11:55 a.m. If you're headed out to the Island, the show starts a minute later at 11:56 a.m.
☀️ Experience the eclipse at the Corpus Christi Museum of Science and History, complete with a whole slate of activities at Valero's Eclipse Extravaganza. Or book a cruise with Baywatch Tours to claim your spot on the water. Claim your spot at the Malaquite Beach Visitor's Center on PINS. Greet the sun with some sun salutations with a VIP yoga experience. Get some shopping done at the Southside Farmer's Market  or La Palmera before the eclipse. The options are limitless!
☀️ Corpus Christi is the last spot in the U.S. to catch the annular eclipse in its entirety. Learn more about eye safety during a solar eclipse from NASA. 
☀️ A shameless promotion: Know of a cool eclipse event that got eclipsed by the others I've mentioned? (OK, or, let's be honest: I just didn't hear about said events…) Holla at ya girl at diandraspicak@gmail.com or shoot a message to us at @rightoncorpus on Facebook or Instagram. 
Hey besties! Have you got the deets on an event you'd think we'd be interested in? Email righton@rightoncorpus.com and diandraspicak@gmail.com. Follow us on Facebook and Instagram @rightoncorpus, and DM us there, too! We're always looking for new things around the Coastal Bend.