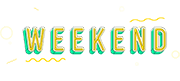 Now that we've all had our share of hot dogs and hamburgers, delighted in fantastic firework displays and taken advantage of all of the July 4 sales … it's time to celebrate another weekend in the Coastal Bend! That week went by quickly – why can't all weeks be just three days long? Cheers to the freakin' weekend y'all, let's have some fun: 
Friday and Saturday, 4 p.m.; Sunday, 3 p.m.
Water's Edge Park
This family-friendly event will feature a variety of live music artists playing each weekend at three locations on The Great Lawn at The Water's Edge, 602 S. Shoreline Boulevard. Food trucks will be onsite offering a wide variety of food for purchase. Hang out, play games, and enjoy the beautiful bay with family and friends.
Friday, 5 p.m.
Downtown
It's the first Friday of the month, so you know what that means: ARTWALK! Head downtown and catch your favorite local vendors and artisans, groove to live music and nosh on delicious meals from the coolest food trucks. The event spans nearly all of downtown from Lomax Street to Artesian Park, so there's fun for the whole crew. 
Friday, 10 a.m. to 9 p.m.
First Friday also means free admission all day to the Art Museum, presented by Frost Bank! Grab the whole family to take in the rotating exhibits on display. With extended hours, there's no excuse not to embrace your inner Warhol or Picasso and find your way to the AMST. Bonus: hit the AMST outreach table at Artwalk for giveaways and art activities. (I mean, who doesn't love free things?!)
Friday, 5 p.m.
Stroll over to the Art Center of Corpus Christi during Art Walk for the opening of their July exhibits. They include Abstract Biennial, Garden Party by Abbagail Medrano and Observations of Nature Through Journaling. Admission to the Art Center is free. 
Friday, 5:30 p.m.
What's ArtWalk without art? Join K Space Contemporary as it unveils its newest, and exclusive, exhition: "Jean Walters Art Collection." The exhibit runs through Aug. 18. Walters' collection is the largest private collection in the U.S. of Will Barnet's work, an American artist known for his paintings, watercolors, drawing and prints depicting the human figure and animals. K Space's exhibit will feature selections by Barnet, Walters favorite artist, as well as other works of art by other artists and a selection of interior decor objects spanning 6 decades. And, most of the work is up for sale, so serious art collectors may find something to add to their own collections.
Friday, 6:30 p.m.
Are you feeling a little downward dog? Do you feel a little more limber with some liquid help? Rock on with this donation-based class, held weekly in the brew room of Nueces Brewing. Grab a cold one for some hot yoga, and we promise you, you'll feel like a happy baby in no time. 
Friday, 6 p.m.
Wooo! Corpus Christi's Premier Professional Wrestling is back with "Live by the Gun." Catch your favorite wrestlers, including AEW's the Gunns, ROH's  Dalton Castle, AAA/Impact's Black Taurus and more. Doors open at 6:30 p.m. for general admission, and bell time is 7 p.m. Front row and VIP tickets are already sold out, so if you're looking for some ringside action, grab your $25 general admission ticket now. (And, as always, this events writer apologizes for her lack of wrestling knowledge.)
Friday and Saturday, 7:05 p.m.; Sunday, 5:05 p.m.
Didn't get enough fireworks on Tuesday? (I mean, who really did anyway? Fireworks are the best.) Grab your Hooks jersey and head over to Whataburger Field to catch the game against the San Antonio Missions – and stay for the weekly Fireworks show on Friday. Friday's also Gulf Coast Capital Night, so the first 1,500 fans get a Visit Corpus Christi jersey. Saturday's freebie? A Jose Altuve Replica Astros Jersey. (…anyone want to grab one for their favorite events writer??) And snag a Jeremy Pena Replica World Series Ring at H-E-B Kids Day on Sunday, complete with dollar hot dogs, soda and candy. 
Friday, sunset
Cole Park
Scoop up the kiddos for a Friday night feature at the Cole Park Anderson Amphitheater. The cinema series kicks off this Friday and runs through August 11. Audiences can expect a summer lineup filled with action, adventure and laughs. The films are family-friendly and closed-captioned. What's showing this week? 'Puss in Boots: The Last Wish.' Follow the Bay Jammin' Concert & Cinema Series Facebook page for the full summer lineup.
Saturday, 9 a.m.
5800 Everhart Road
Stock up your pantry with local fruits, veggies and more at the Corpus Christi Southside Farmers' market. This weekly market is held rain or shine in the Market shopping center at 5800 Everhart Rd. 
Saturday, 9 a.m. to 1 p.m.
Sutherlands in Alice
OK, so not everyone is in Corpus Christi proper, so here's another farmers market option for those of y'all who live a little farther out in the Coastal Bend. Satiate your desire for fresh local veggies and grab some locally made items from artisans every second Saturday at the Alice Farmers Market, held in the Sutherlands parking lot. 
Saturday, 11 a.m.
Get ready to rock, errr, shop at this installment of the Rock N Roll flea market. Snag that rockin' merch from vinyls and CDs to tees, and everything else you need to add to your collection. Stop by House of Rock on Saturday to shop small and support local vendors – what could be more metal than that?
Saturday, 4 p.m.
The Block Corpus Christi, 917 S Staples St
BYOBPBCLC. I lost you, didn't I? Bring your own blanket, picnic basket, cooler and lawn chair to the RnB PicNik festival this Saturday to groove to the best music from the area's top DJs. DJs will spin soul and RnB hits from the 80's, 90's, the aughts and now. Heal your soul with good food, music, wellness and healing vendors, games and more at The Block. Grab your admission here (prices vary if you decide to bring a cooler). Children over three require a ticket.
Saturday, 10 a.m. to 5 p.m.
Calling all superheroes (and comic book enthusiasts): Put on your capes and make your way to the Corpus Christi Museum of Science and History for a day of educational activities, arts and crafts, costume contests, comic book and art vendors, raffles and more. Pre-purchase your tickets for this super family fun event (kids under three get in free). 
Saturday, 6-9 p.m.
Get lost at the enchanting and vibrant Tanabata, or Star Festival, at the Texas State Museum on Saturday. This traditional Japanese celebration takes place on the seventh day of the seventh month of the lunar calendar. Celebrate with food and shop vendors as well as activities for kids: write your wishes on a paper strip and hang them from a bamboo tree; snap some photos in a yukata or kimono; and participate in the chopstick challenge. Standard admission applies to this family-friendly event. 
Saturday, 4 p.m.
Does ping pong come very natural to you? Do you play it all the time? Do you play ping pong so much, you even play ping pong in your sleep? If you answered yes to all of those questions, you're probably Forrest Gump (and the undisputed King of Pong). Claim your crown this Saturday at the Annex's King of Pong tournament. Dress to impress in your best retro table tennis digs (with prizes for the top male and female 'fits.) Just don't forget your Flexolite ping pong paddle!
Saturday, 5:30 p.m.
Get in touch with nature and learn more about our local protected estuary habitats at the once-per-month Delta Discovery Picnic. Bring a picnic basket and blanket for an evening of exploration. To register for the picnic or learn more, click here.
Saturday, 6 p.m.
If the weather's not enough, this concert is gonna make you sweat. I swear, you might need some ice, ice, baby, or a funky cold medina to cool down. Celebrate arguably the best decade (this nineties baby isn't biased at all) by picking up a ticket to Saturday's concert, which promises to be da bomb, featuring Vanilla Ice, 2 Live Crew, Tone Loc and more. 
Saturday, 8 p.m.
Saturn and Neptune may be in retrograde, but there's plenty of other planets and stars out in the Universe that we can be paying attention to instead. Look to the skies with the Corpus Christi Astronomical Society at a star party at the Padre Island National Seashore (right outside the Malaquite Visitor's Center). BYOT (bring your own telescope) or peek through ones of the Astronomical Society's telescopes to expand your knowledge of the stars to infinity and beyond.
Sunday, 9 a.m.
Join a ranger to see Catfish Cove like never before – from a kayak. Reserve your spot by emailing Josie.Gunter@twpd.texas.gov before 5 p.m. on Saturday (be sure to include the number of participants and how many are 12 and younger). Prior kayaking skills and swimming knowledge are preferred. 
WATER STREET FARMER'S MARKET
Sunday, 10 a.m. to 2 p.m.
Kick off your Sunday Funday by supporting local vendors and restocking your pantries with fresh veggies, and more, when you head down to the only Sunday farmer's market at Water Street Market.  
Sunday, 2 p.m.
Get crafty this Sunday with Chandler Coterie and Hinz Home Company at the Annex. Create a signature, one-of-a-kind candle (even down to the label). Reservations include two champagne tickets or one signature cocktail, and light refreshments will be provided. With 300 fragrances to choose from, you can blend and create a unique scent that's all your own.
Hey besties! Have you got the deets on an event you'd think we'd be interested in? Email righton@rightoncorpus.com and diandraspicak@gmail.com. Follow us on Facebook and Instagram @rightoncorpus, and DM us there, too! We're always looking for new things around the Coastal Bend.