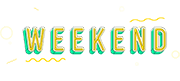 Y'all: It's April! And I'm not foolin' around. Easter's right around the corner, so if you practice (or are just a glutton for punishment), the end is in sight for those Lenten promises. But, one thing is for sure, this weekend is stacked with some fun events. (No April Fool's pranks here, promise!) Here's what's going on around the Coastal Bend: 
Friday, 5 p.m.; Saturday, 11 a.m.; Sunday, noon
Portland Community Center
Windfest blows into town Friday (no, seriously, AccuWeather's forecast calls for wind that day), jampacked with all the fun you can find. Hop over the bridge to see the illuminated parade Friday night as local favorites Matt Hole, the East and the Crow, and Seattle Rising rock the stage like a hurricane. The fun continues all weekend with the carnival, a BBQ cookoff, car show, weenie dog races, and more. Click here for a full lineup. Daily admission is $10, but $20 gets you admission for all three days. 
Friday, 5:30 p.m.
Snapka's Drive Inn, 4760 Leopard St.
Heya daddy-o, why don't we hop in your chariot cruise down to the burger joint for some milkshakes and fries? I'm sure it'll be a nifty time. Wax nostalgic for a simpler time at Snapka's Nostalgia Nite. Check out classic hotrods and make some new friends so you won't be alone at the drive-in.
Friday, 6 p.m.
Snoopy's Pier
Fish and chips and … karaoke! Name a better trio: I'll wait. Spice up your fish fry Friday this week with a family-friendly karaoke night at Snoopy's Pier. Dibs on singing Mulan's "I'll Make a Man Out of You."
Friday, 6:30 p.m.
Take your tastebuds on a food and wine journey with Chef Francesco and Sommelier Corey at Bellino's. The menu features delectable dishes paired with luscious wines for $85 per person. Make your reservations online or call 361-814-8998, specify wine dinner. Cin cin! 
Friday, 6:30 p.m.
Lent just got you feeling a little downward dog? Do you feel a little more limber with some liquid help? This donation-based class is held weekly in the brew room of Nueces Brewing. Grab a cold one for some hot yoga, and we promise you, you'll feel like a happy baby in no time. 
Friday, 6 p.m. 
BRING THE STING … but only on the ice. Otherwise, bring the generosity. 50% of ticket sales to Friday's IceRays game go to Choice Living. Grab your discounted $10 tickets here, but vouchers must be picked up prior to the game. Give back and enjoy a night of hockey! Take home some sweet items too: there's a live jersey auction after the game and a silent auction in the concourse. 
Friday and Saturday, 7:30 p.m., and Sunday, 2:30 p.m.
Laugh out loud at the opening night of 'Noises Off' on Friday at Aurora Arts Theatre. The play, called "the funniest farce ever written," presents a "manic menagerie of itinerant actors rehearsing a flop called 'Nothing On.' " 'Noises Off' features intrigue both on and offstage, door slamming and an errant herring in this hilarious and comedic production. 
Friday, 7:30 p.m.
Lace up your boots for a ranger-led, one-mile round trip hike after dark on Longhorn Trail. Learn about, hear, and maybe even see the park's nighttime residents. This all-ages program is free with park admission.
Friday and Saturday, 7:30 p.m.; Sunday, 2:30 p.m.
I'll try to keep this brief: Accusations, mistaken identities and romances run wild in this farce featuring nuns, wine and secrets. You interested yet? Catch the Port Aransas Community Theatre's production of 'Drinking Habits' now through April 16. Grab your tickets here.   
Friday, 8 p.m.
Put your karaoke skills to the test and win some prizes at Game Show Karaoke! Hand me the mic and move over Jimmy Fallon; I'm all about sangin' my way to the top. Contestants will sing a song of their choice from wherever the roulette wheel lands; impress the audience and move up the ranks. Competition starts at 10 p.m. sharp, so get to House of Rock early to sign up! 
Saturday, 9 a.m. to 4 p.m.
Don't fool around this Saturday and miss the monthly installment of Heritage Park Market Days. This family- and pet-friendly market has something for everyone! 
Saturday, 10 a.m. to 5 p.m. 
Get your green thumbs and your greenbacks ready for the Big Bloom Mega Sale at the Botanical Gardens on Saturday. Shop hundreds of plant varieties, orchids from Hawaii and Florida, plumeria and more from special vendors. Catch a ladybug or butterfly release, meet animal ambassadors or have fun in the kid zone. This popular event is expected to draw 5,000 people or more. Members get in free and can start shopping an hour early at 9 a.m., while nonmembers only pay $2 for Community Day admission. Doors open for nonmembers at 10 a.m.
Saturday, 10 a.m. to 4 p.m.
To quote that absolute bob from 'Mary Poppins,' "let's go fly a kite up to the highest height." Take advantage of that coastal breeze and send those kits up, up and away (well, as far as your line will let it). BYOK (bring your own kite) or just enjoy the aerial acrobatics with the Coastal Bend Flying Circus. 
Saturday, noon to 10 p.m.
Downtown
Free up space in your tummies – fifty (that's right, 5-0, 50, five-zero) food trucks will serve up their best dishes this Saturday at the annual Food Truck Festival in downtown Corpus Christi. It's an all-day, fun-for-the-whole-family affair with live music, arts and crafts, face painting, a petting zoo and more. This free-to-attend, pet friendly festival starts at Chaparral and Peoples Streets. Show up hungry so you can eat as much as you want! 
EASTER EVENTS
Easter's next week, but we're already jumpin' at the bit for a fun time. Hop on down to any of these events to kick off the springtime celebrations. May the odds be ever in your favor at those egg hunts or just kick back at brunch. There's plenty to do this weekend.
EGGTASTIC EASTER CELEBRATION: Saturday, 10 a.m. at Corpus Christi Museum of Science & History. Start spring "sunny side up" at this celebration featuring multiple egg hunts, selfies with the Easter bunny, face painting, stage shows, a scavenger hunt and much more. Purchase your tickets online today, as nonmembers will have to pay general admission. Museum members and children under 3 are free. 
EASTER FEST: Saturday, 10 a.m. at Memorial Park in Rockport. This free, family-focused event features live music, arts and crafts, and game booths. Up the egg-citement at the Touch-A-Truck area, and then partake in a free hotdog lunch. Snap some selfies with the Easter Bunny. Bring your own basket for egg hunting.
EASTER EGG HUNT AND BRUNCH: Saturday, 10 a.m. at the Deaf and Hard of Hearing Center. The center will provide food and drink, and the event features a petting zoo, pony rides, arts and crafts, a photo booth and egg hunts.
OSO CREEK'S FREE FAMILY EASTER FESTIVAL: Saturday, 10 a.m. at 7402 Yorktown Blvd. What's not to want from this event? There'll be egg hunts, inflatables, hot dogs, pop corn, cake walk, hay ride, music and more.
THE HOPPENING: AN EGG-CELLENT ADVENTURE: Saturday, 3 p.m. at La Retama Central Library. Spend the afternoon at the library participating in an egg hunt, crafts, games and more. All ages welcome. 
CHERRY BLOSSOM FAMILY FUN EVENT
Saturday, noon
Texas State Museum of Asian Cultures
Time to see everything through sakura-tinted glasses: it's cherry blossom season! Be tickled pink at the Texas State Museum of Asian Cultures' Cherry Blossom Family Fun Event. On Saturday, we wear pink: pink colored or cherry blossom designed clothes are encouraged! There's fun for the whole family including  Japanese folk tale story time, a chopstick challenge, karaoke, traditional costume fashion show, origami and more. Sign up here to join the fashion show. (Participants' admission fees waived.)
Saturday, 11 a.m. to 5 p.m.
E-I-E-I-O: Spend the day out on the farm and take in the fresh spring air while you get your Easter shopping done. Check out the 100+ vendors, grab lunch from a food truck, enjoy live music, get rustic with farm animals and more at the Market Days at Cotton Branch Farms. 
Saturday, 7 p.m.
Legends Saloon
Maybe you missed out on your prom, or maybe you want a 'do-over': well, here's your chance! Dust off those poofy-sleeved, tulle bedecked dresses and dance through the decades at 'Adult Re-Prom' at Legends Saloon in Fulton. This fundraising event will have food, a dance-off and raffle auction – and, of course, the prom king and queen will be crowned. Tickets are $30 each for this 21+ event, and proceeds benefit the Coastal Bend Fairy Godmothers. More information here. 
Sunday, 11 a.m.
Bluff's Landing Marina and Lodge
Shop 'til ya drop at this month's installment of market day at Bluff's Landing. The market highlights local vendors and creatives, so spend your Sunday Funday supporting and shopping local! 
Sunday, 11 a.m.
Rose Soiree
Spring open those pocketbooks at Rose Soiree's Spring Shop Small Soiree (say that five times fast, I dare you). Shop small, support local at this Sunday soiree (again, I dare you). 
Sunday, noon to 6 p.m.
Align your chakras, lift your spirit and recharge at the Corpus Mystic Market and Holistic Fair. Open up your third eye and lift your vibrations. Find answers to your most important questions from an intuitive or astrologer or just add to your crystal collection. Free admission and free parking. 
Hey besties! Have you got the deets on an event you'd think we'd be interested in? Email rightoncorpus@righton.com and diandraspicak@gmail.com. Follow us on Facebook and Instagram @rightoncorpus, and DM us there, too! We're always looking for new things around the Coastal Bend.