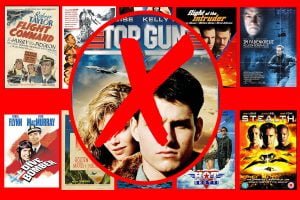 It recently came to our attention that a couple of planes that were used in the 1986 movie Top Gun are on display over at USS Lexington. And while that's cute and all, it got us thinking: Top Gun isn't the only movie about U.S. Navy pilots out there, right?
Oh sure, the movie is now a cheesy classic, featuring Tom Cruise in his young, smooth-ass prime as the aptly-nicknamed Maverick. (BTW, Cruise will be back as Maverick for a sequel, slated for a summer 2019 release.) But there have been many movies about Navy fighter pilots that have come before and after that slicked-out blockbuster.
Here are ten of them: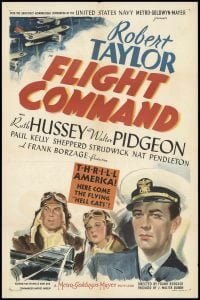 Flight Command (1940)
If you think Top Gun is the only movie about a cocky, hotshot U.S. Navy pilot looking for love and speed in the not-so-friendly skies, then maybe you should check out this old flick from veteran journeyman director Frank Borzage. Robert Taylor is the high-flying badass of this film, dying to be accepted into an elite squadron nicknamed the "Hellcats."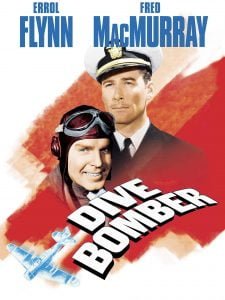 Dive Bomber (1941)
A year after Flight, Michael Curtiz dropped this film, with Errol Flynn (Curtiz's most frequent leading man) and Fred MacMurray as rival Navy men who join forces in finding ways to make pilots safe while they're in flight. The movie is also notable for its Technicolor shots of pre-WWII, Navy aircraft, as well as the famed aircraft carrier USS Enterprise.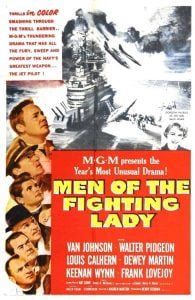 Men of the Fighting Lady (1954)
Set during the Korean War, this brief (89 minutes!) but effective drama — based on a Saturday Evening Post article by author/future Texas resident James A. Michener – is about Strike Fighter Squadron 192 (VFA-192) pilots, located in the Sea of Japan, who try to stay alive when they are forced to go back in the sky and attack an enemy railroad.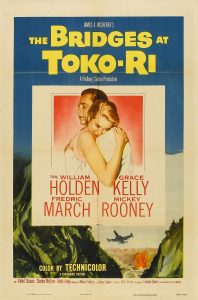 The Bridges at Toko-Ri (1954)
Yet another yarn of drama and danger set during the Korean War in the Sea of Japan (also based on literature by James Michener!), this movie has the late, great William Holden as a Naval Reservist pilot who just wants to go home and hang with his wife (Grace Kelly). Unfortunately, he still gotta get in the air and bomb over North Korea.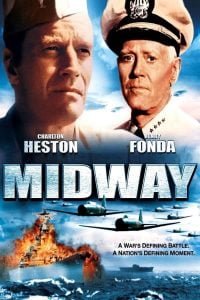 Midway (1976)
We're taking it back to WWII for this all-star, period piece. Charlton Heston, Henry Fonda, James Coburn, Robert Mitchum, Toshiro Mifune and Robert Wagner are just some of the A-listers who populate this fictionalized account of the Battle of Midway, where American naval forces went mano a mano with the unstoppable, Imperial Japanese Navy.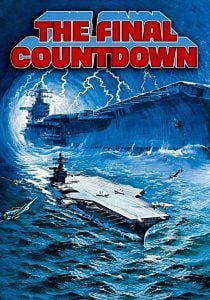 The Final Countdown (1980)
OK, follow us on this one: This alternate-history film has the aircraft carrier USS Nimitz going through a vortex, sending the carrier and everyone in it (including Kirk Douglas and Martin Sheen) back in time to the day before the 1941 attack of Pearl Harbor. We're assuming it's best to watch this the same way the screenwriters probably wrote it: under the influence of some heavy stuff.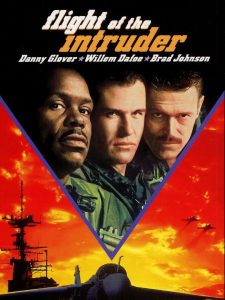 Flight of the Intruder (1991)
We head over to Vietnam for this anarchic flick, directed by that rascally conservative (and inspiration for John Goodman's character in The Big Lebowski) John Milius. Based on a novel by former Grumman A-6 Intruder pilot Stephen Coonts, this movie features Danny Glover, Willem Dafoe and Tom Sizemore as Navy flyboys who try to stay heroic during this damn war.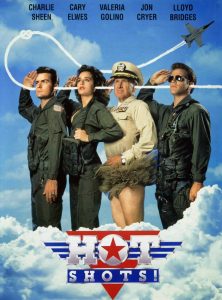 Hot Shots (1991)
Top Gun may not be on this list, but the still-funny (and, unlike Gun, intentionally so) parody it spawned is right here. Directed by Airplane co-director Jim Abrahams, it has a straight-faced Charlie Sheen as the Tom Cruise stand-in, an arrogant-but-tormented, Navy pilot coming back into active duty – and doing a bunch of goofy-ass stuff in the process.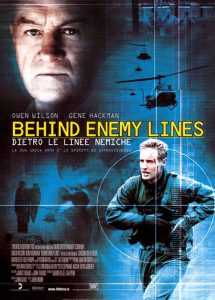 Behind Enemy Lines (2001)
If it wasn't for the 9/11 attack shaking the country to its core and making us crave war, this jingoistic actioner, starring Owen Wilson as a Navy pilot shot down over Bosnia and Gene Hackman as the superior who tries to get him out of there, would've been long forgotten. However, it ended up making damn near $100 million and set off a wave of chest-thumping, early-aughts war movies.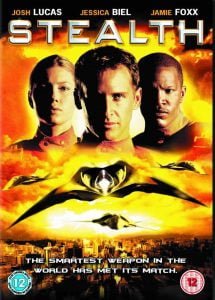 Stealth (2006)
This rounds out the list mainly because we still can't believe this silly movie was ever greenlit. It had a $135 million budget, The Fast and The Furious director Rob Cohen and Jessica Biel, Jamie Foxx and Josh Lucas as sexy pilots. It should've worked. Unfortunately, the plot, where they train an unmanned plane that starts thinking on its own, made the movie look like Short Circuit in the sky.