It's Pride Month, babies! Do you have your best rainbow and Pride-themed outfits ready yet? Celebrate love and embrace diversity all month long with Pride Corpus Christi at events all over the community. From a youth prom to a pet paw-rade, a pub crawl and a musical, there's something for everyone – whether you're in the LGBTQIA+ community or an ally – to feel included and show off Pride! Love is love, y'all. 🏳️‍🌈

June 3, 7 p.m.
Darling it's better, down where it's wetter: Dive into the annual Youth Prom, dedicated to LGBTQIA+ teens aged 13 through 17. Find yourself transported to an ocean paradise Saturday, June 3, for an enchanting "Night Under the Sea." Allies are welcome, too, of course, and tickets are $10 a pop. Dress to impress in ocean, sea or water-inspired costumes and outfits. Find more information here. 
June 4, 10:30 a.m.
Feel the love at St. Paul United Church of Christ at an opening and affirming Sunday sermon on June 4, as Pride Corpus Christi member the Rev. Dana Worsham delivers a message of love, acceptance, and the importance of embracing diversity within the spiritual community. After the sermon, stay for a potluck celebrating their commitment to inclusivity and acceptance. You'll want to bring your favorite dish to share and break bread with fellow community members and congregation's diverse members. 

KICK OFF THE PARTY WITH PRIDE CORPUS CHRISTI
June 4, 3 p.m. to close
Get the party started for Pride Month at the official kick off with Pride Corpus Christi at Hidden Door – the city's oldest and only gay bar. The party, which kicks off a series of community events, has something for everyone, including vendors, food, an underwear fashion show, a lipsync showdown, and drag performances by Malissa Mykals, Tanya Robyrts, and Victoria West (also known as MTV). Join host Isis Paris York for all the fabulous fun on Sunday, June 4, and get ready for a whole month of Pride! 

June 5, 6:30 p.m.
Slip on your 'Kinky Boots' for a night of glitz, glamor, and fun at Pride Movie Night at Alamo Drafthouse on Monday, June 5. Limited tickets are available for all the fabulous fun at the showing of – you guessed it – 'Kinky Boots'. Included in the $25 ticket is a performance by drag performer Robyn Valentine and a gift bag full of Pride-branded swag. 

June 6, 7 p.m.
Pencil in a fabulous night of laughter and fun at Pride Corpus Christi's Comedy Night at Mesquite St. Southside on Tuesday, June 6. The phenomenal lineup includes opener Eric Williams, a Los Angeles-based comedian and host of "That's a Gay Ass Podcast." The hilarity keeps going with headliner Poppy Champlin, a recent inductee to the Rhode Island Comedy Hall of Fame. Champlin, described as a "freakin' ball of comedic thunder" by her fans, tackles tough subjects with ease in her set. She has performed with some comedians you might've heard of, like Bill Maher, Ray Romano, and Rosie O'Donnell. Grab your $25 ticket now for a fabulous night of stand-up comedy.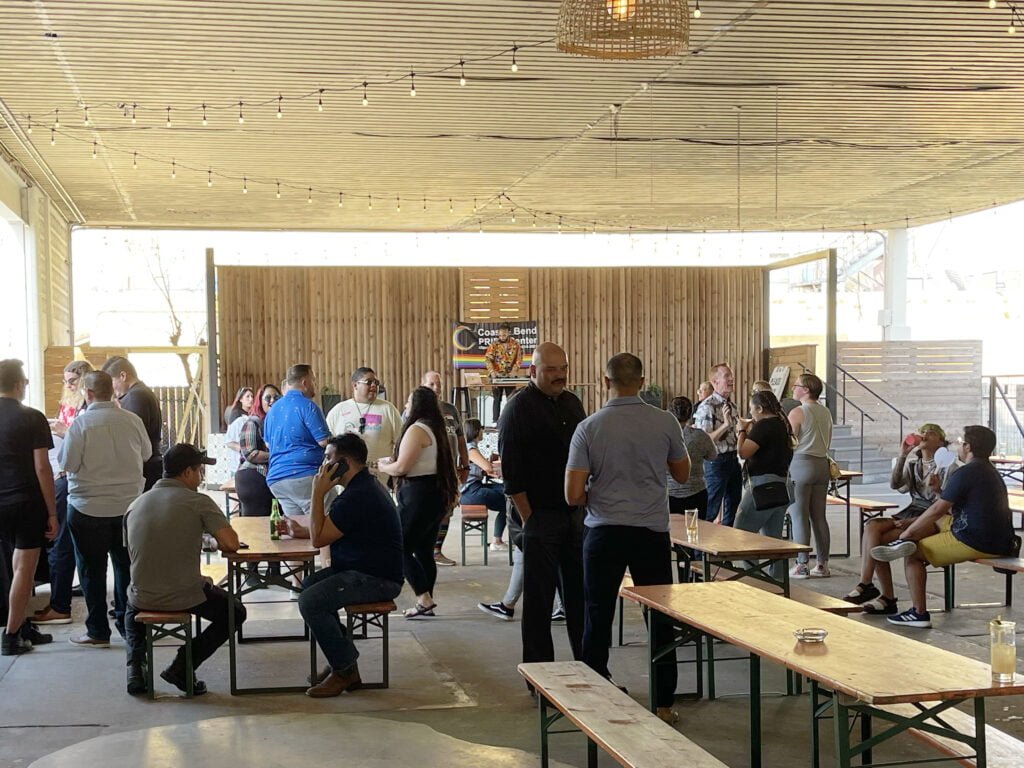 June 7, 5:30 p.m.
BUS
Calling all LGBTQIA+ business owners and allies that would like to network with the community: Join the Coastal Bend Pride Center for a Wednesday, June 7, networking mixer with Out Professionals. This mixer provides an opportunity for LGBTQIA+ professionals to connect, network, and share experiences with like-minded individuals. Hosted by BUS, the event also boasts a special guest speaker and a pop-up by Jalapeña's Salsa. Come out to make new friends, establish business connections, or just enjoy a welcoming, inclusive space for everyone.
CELEBRATE THE LGBTQIA+ COMMUNITY'S CREATIVITY
June 8, 6:30 p.m.
Pride Corpus Christi Poetry Night & Art Exhibition highlights the creative talents and diversity of the LGBTQIA+ community. The free and open-to-the-public event brings together poets, artists and art lovers to share their perspectives through poetry and visual art. Switchgrass Review poets will showcase their talents and let LGBTQIA+ voices ring with inspiring readings. The poetry night offers an opportunity for the community and allies to listen, learn and engage in meaningful conversations to foster understanding and inclusivity. And this year, the poetry night has expanded to include a "Bring Your Own Art" exhibition – an open platform for local artists to display their work. The night promises to honor the LGBTQIA+ community's creativity and resilience and support its vibrant voices and talents.

GET YOUR PUB CRAWL ON DOWNTOWN
June 9, 5:30 p.m.
Downtown Corpus Christi
Paint the town a rainbow of colors with a pub crawl featuring all of our favorite downtown bars. Join your fabulous host, Gemini B. York, for a night of revelry, signature drinks, and Pride. Starting at 5:30 p.m., grab a Pride Sangria at the Gold Fish and snap a photo with Lavish Events. The party then moves to Rockit's Whiskey Bar & Saloon for a Skittles Shot and $1 pizza slices. Then, groove on down to House of Rock to kick up your feet to DJ Johnny Hotcakes. At 9 p.m., the mistress of ceremonies takes to the stage with her friends for a special, dazzling Drag Show. Finally, the night comes to an end at Cassidy's Irish Pub with live music from TomCat. While you're there, try the Out & Proud Cocktail, served in a commemorative cup (while supplies last). 
June 10, 7 a.m.
Cole Park
These colors do run – but it's not like that: Don your flashiest rainbow outfits for the inaugural Rainbow Run/Walk 5K. Race down to Cole Park on June 10 to participate in this first-ever Rainbow Run (or walk, depending on your speed). Registration and check-in open at 7 a.m., and racers set off at 8 a.m. Tickets are $15 to enter the race. All funds directly benefit the Coastal Bend Pride Center.

June 10, 10 a.m.
Even our four-legged, furry friends can be allies this month with the 3rd Annual Pet Paw-rade at St. Paul United Church of Christ. Dress up your furbabies in the most fabulous outfit to compete for pawsome prizes for winners of the "Best Dressed," "Most Creative" and "Pride Spirit" categories. There's fun for your two-legged kiddos, too, with an inflatable bouncy house. Pet owners can munch on hot dogs, while the furbabies have access to water stations and free milk bones. Strut your stuff on a joyful march to two nearby assisted living communities to spread the love and cheer to residents in a paw-rade. And, add to the family with the SPCA pet adoption drive on site. 
June 15-18
Port Aransas Community Theater
Take a trip out to the Port Aransas Community Theater for a hilarious, quirky production of '5 Lesbians Eating a Quiche.' If the title doesn't whet your appetite, here's what it's about: It's 1956 and The Susan B. Anthony Society for the Sisters of Gertrude Stein have discovered at their annual quiche breakfast that they share more than just their love for the breakfast food. The women navigate themes of identity, sisterhood and acceptance as the atomic bomb sirens sound in the background. Rife with laughs, sexual innuendos and delicious discoveries, the play won Best Overall Production at the 2012 NYC International Fringe Festival. Reserve your tickets now for one of the shows during the limited run three-day run as part of the month-long series of Pride events. *Warning: Sexual content, intense themes, frightening imagery and brief strong language.*
June 21, 6:35 p.m.
Root for the home team and display your pride at Pride Night at the Corpus Christi Hooks on Wednesday, June 21. The special night brings together baseball fans and the LGBTQIA+ community to promote unity, love and acceptance in Corpus Christi. And it's sure to be a home run! Don't miss the colorful display of LGBTQIA+ flags, showcasing the vibrant diversity of the community, nor the special guest throwing the opening pitch with style and flair. Tickets available now.
June 30 – July 2
Round off your Pride month celebrations with the Harbor Playhouse's production of the poignant, Tony Award-winning musical 'Fun Home' from June 30 to July 2. The play, based on lesbian cartoonist Alison Bechdel's graphic memoir, follows Alison on a powerful journey of self-discovery, identity and family. As she navigates childhood, college and adulthood, Alison uncovers the truth of her father's hidden life while coming to terms with her own sexuality. Tickets are $20 per person for this heartwarming musical that has captivated audiences worldwide. Honor the spirit of Pride Month with this performance that celebrates love, acceptance and the power of storytelling. *Warning: Mature themes and content*
For a full schedule of Pride Month community events, click here. Visit www.pridecorpuschristi.com for more information on Pride Month, free HIV/STD self test kits and to earn free tickets.