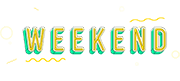 May the Fourth be with you (…and also with you) this weekend! This weekend is jam packed with things to do, from Buc Days to Cinco de Mayo. A fitting way to kick off this writer's birthday month! If you're lucky, you might even catch said writer at one of these events. 🤷🏻‍♀️ Here's just a sample of what fun you can find in the Coastal Bend this weekend:
Daily
Downtown Corpus
Shiver me timbers: The annual two-week long fiesta is back! There's plenty to do, from the Stripes Carnival to the rodeo. We'll highlight some of the events, but there's plenty of fun to be had for the whole family. You'll want to walk the plank if you don't make it out for some of the fun! Find more information here.
Friday, 6 p.m.
Downtown
It's the first Friday of the month, so you know what that means: ARTWALK! Head downtown and catch your favorite local vendors and artisans, groove to live music and nosh on delicious meals from the coolest food trucks. The event spans nearly all of downtown from Lomax Street to Artesian Park, so there's fun for the whole crew. 
FIRST FRIDAY AT THE ART MUSEUM
Friday, 10 a.m. to 9 p.m.
First Friday also means free admission all day to the Art Museum, presented by Frost Bank! Grab the whole family to take in the rotating exhibits on display. With extended hours, there's no excuse not to embrace your inner Warhol or Picasso and find your way to the AMST. Bonus: hit the AMST outreach table at Artwalk for giveaways and art activities. (I mean, who doesn't love free things?!)
Friday, 5-8 p.m.
Celebrate art by making your way to the Art Center during Art Walk for their month exhibit opening. The showcase, featuring an opening reception for the TAMU-CC BBFA exhibit, will also have a pop-up vendor market, photo opportunity and kids art activity. And, interested in how art comes to be? Check out one of the artist demos, including pottery throwing (no, not like that – think 'Ghost'), live portrait painting and more! 
Friday, 5:30 p.m.
If all these events haven't gotten you saying, "OK, I like it, Picasso," make your way to K Space for the opening of 'Piri the Dreamer and Flying Coyote in Good Company' by artist Josias Figuerido. Figuerido will present a gallery talk at 6:30 p.m. The exhibit "merges fiction and reality along with digital and analog processes," and showcases Figuerido's latest paintings, drawings, sculptures and augmented reality experiences. 
Friday, 6:30 p.m.
¡Delicioso! Have a royally* fun fiesta on Friday with a cookie decorating class at Lazy Beach! (*I only have one joke that deals with icing cookies, and I'm sorry I'm not sorry.) For $45, you'll learn how to decorate seven cookies (and includes your choice of cerveza or Margarita seltzer).

Friday and Saturday, 7:30 p.m.
What's Buc Days without the rodeo? But, what if you amped it up? The Pendelton Whisky Velocity Tour is two-hours of pyrotechnics, music and the "most intense bull riding action the world has to offer." I can't argue with something that promises "heart-pounding, bone-crushing action" and a star-studded lineup of the world's best riders and animal athletes. Grab your tickets now for the rootinest, tootinest and most intense bull-riding action (I'm taking their words for it) at the American Bank Center.
Friday and Saturday, 7 p.m.
Full moon got you feeling a little stir crazy? Get out and about on the bay for a sunset and moonrise cruise aboard the Texas Tease. Get into the fiesta spirit Friday or Saturday night for just $40 a person. Snag your tickets for a 2-hour tour featuring live music and a full cash bar. 
Saturday, 9 a.m. to 6 p.m.
Most Wanted Comics, 4236 S. Alameda
FREE. COMIC. BOOK. DAY. Enough said. Head down to Most Wanted Comics to celebrate with giveaways, door prizes, cosplay and more. (You had me at "free.") 
Saturday, 10 a.m.
Tiny Adventures, 4050 Weber Rd.
Hey moms! May is your month (not that we shouldn't celebrate you every month), so why not kick off this weekend with a little 'me' time with the kiddos? Tiny Adventures will host a "Mommy and Me Yoga Class" with playtime, Mother's Day activities and photo ops afterward. $20 for one adult and one child. Sign up here.
Saturday, 11 a.m. to 6 p.m.
Want to avoid the downtown crowds this weekend but still want to get your fill of art? Head to the Island for the first Island ArtWalk, presented by CATS Market UNA (the group who also brings you monthly markets at Heritage Park and Artesian Park). ArtWalk is a juried art and craft show where regional artists and artisans display a variety of their work. Make it a full day of fun with wine tastings, shopping, food and more. 
Saturday and Sunday, noon
Downtown Corpus
I know y'all have heard the Blue Angels practicing for this weekend. I assume you also get just as excited as I do when you hear them overhead (because, who doesn't??). Catch them in action this weekend as part of the Buc Days festivities! And there's plenty of ways to view their high-flying excellence and precision above the Corpus Christi Bay: free viewing along Shoreline Blvd., $5 gate admission with access to the Buc Days Grounds or you can jump for an upgraded experience. Find out more here (VIP packages run $100 per adult, $50 for kids 12 and under). You can also catch the air show from the USS Lexington Flight Deck:  Purchase tickets through Thursday, May 4, online for either Saturday or Sunday from noon to 4 p.m.
Saturday, 2 p.m.
It's time to get down and derby, y'all. Join nonprofit Enrich Local for a day at the races – weenie dog races – in your best hats and bowties. Dress to impress: join the best-dressed contest for a chance of winning a prize! Partake in some Southern-inspired beverages as we wait for the horses and jockeys to take to the track. And, if you've still got the gamblin' spirit, there will be prizes raffled, too. All proceeds benefit Enrich Local to help raise funds for the annual Hot Tamalefest. 
Saturday, 8 p.m.
Downtown Corpus
If you're a Corpus native, you know how intense finding the perfect spot along the parade route can be. This yearly tradition brings out families early to chalk up their spot. If you're new to Corpus, then this is literally the event of the weekend. Kick off your Buc Days celebration with the parade that lights up downtown from Chaparral to Tancahua streets. Find out more, or score VIP tickets for viewing at Heritage Park, here. 
Sunday, 11 a.m. to 6 p.m.
Shop 'til ya drop at this month's installment of market day at the Bluff's Landing. The market highlights local vendors and creatives, so spend your Sunday Funday supporting and shopping local! 
Hey besties! Have you got the deets on an event you'd think we'd be interested in? Email righton@rightoncorpus.com and diandraspicak@gmail.com. Follow us on Facebook and Instagram @rightoncorpus, and DM us there, too! We're always looking for new things around the Coastal Bend.