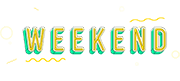 Have y'all got your celebrations planned to honor the best women in your lives? Sunday is Mother's Day, and consider this your reminder to grab a gift or plan a meal or do something to ease your moms', sisters', daughters' (or really any mother's) workload. I mean, you got it from your momma, right? Besides celebrating mom, there's plenty of other things to do this weekend in the Coastal Bend:
Downtown Corpus
The annual two-week long fiesta is back! There's plenty to do, from the Stripes Carnival to the Rodeo. We'll highlight some of the events, but there's plenty of fun to be had for the whole family. You'll want to walk the plank if you don't make it out for some of the fun! Find more information here. Here's just a smattering of things you can catch at Buc Day's this weekend. 
RODEO CONCERT SERIES: CARLY PEARCE: Friday, 7 p.m. at the American Bank Center.
BBQ ON THE BAY COMPETITION: noon, Saturday.  
RODEO CONCERT SERIES: TRACEY LAWRENCE: Saturday, 7 p.m. at the American Bank Center. 
DRISCOLL CHILDREN'S PARADE: Saturday, 10 a.m., N. Shoreline Blvd. 
Friday and Saturday, noon to 11 p.m.
Rockport Beach, Rockport
There's nothing more Texan than barbecue on the weekend, right? If you're not in the mood to fire up your own pit, grab your tickets for the annual Boys and Girls Club Battle on the Bay BBQ cook off in Rockport. Funds raised benefit the Boys and Girls Clubs of Aransas County – as if you needed more persuasion to eat barbecue, right? Come for the barbecue, stay for the live music, vendors and auctions.
Friday, 6 p.m.
The Annex
Celebrate two years of being the most with one of Corpus Christi's favorite food trucks at one of the newest bars downtown, the Annex. My stomach is rumbling just thinking about all the offerings. One thing's for sure: their Rick Rolls are never gonna give you up, never gonna let you down. Get there with an empty stomach, as they're sure to sell out quickly! 
Friday, 6 p.m.
Portland Community Center
Kick off Mothers' Day weekend with a mother/son bash! School-aged boys and their moms or mother figures are invited to party it up at the Portland Community Center. There'll be snacks, music, photo booths and games – who said being a mama's boy is a bad thing? Purchase your tickets here.
Friday, 8 p.m.
Pep's
To quote the cinematic masterpiece 'Animal House': TOGA. TOGA. TOGA. (I mean, c'mon, I know you were thinking it too.) Grab your bedsheets and get ready to party like it's ancient Greece (or a frat party in the '80s) just over the bridge in Portland. 
Friday, 8 p.m.
Mesquite Street Southside
Buc Days just a little too wild for you? Head to Mesquite Street Southside for an intimate evening of music and stories from the 'legendary' Charlie Robinson, who is playing his first live shows in more than four years. Friday is Robinson's only South Texas performance, and it will feature his three-piece acoustic band performing all the hits of his over 20-year Texas music career. Grab your tickets here.
Friday, 9 p.m.
Look up to the skies this weekend and embark on an out-of-this-world journey. We're out of eclipse season, and Mercury's poised to station direct in a few days (yeah, yeah, it's in gatorade again) – and that's just one bit of what's happening in the great beyond. While astrology might not be everyone's bag, aspiring astronomers can learn about the cosmos, constellations and more with a park ranger at Lake Corpus Christi State Park this Friday. 
Saturday, 9 a.m.
5800 Everhart Rd.
Stock up your pantry with local fruits, veggies and more at the Corpus Christi Southside Farmers' market. With an added 25 vendors, you'll be able to score the perfect gift for mom this week if you're still procrastinating! This weekly market is held rain or shine in the Market shopping center at 5800 Everhart Rd. 
Saturday, 9 a.m.
JB's German Restaurant
Still searching for the perfect gift for Mother's Day? Grab a last-minute one at JB's German Restaurant! And treat yourself to a delicious breakfast or lunch while you're there.
Saturday, 9 a.m.
Cinnamon Shore
Make your last-minute Mother's Day shopping a day at the beach! Head to Cinnamon Shore in Port A to find the perfect thing to spoil your favorite ladies with – and soak up the sun when you're done. 
Saturday, 10 a.m.
Downtown Rockport
Every second Saturday, downtown Rockport bustles with a monthly market – and it's the perfect excuse to make a getaway out of town. (And, if you haven't gathered by now, another chance to grab that gift for a certain lovely lady. I know, I know, I'm a broken record, but you don't have any excuse to forget now!)
Saturday, 11 a.m.
Let's be real: not only is mom your rock, but she's gotta be pretty rockin' herself. Head to the Rock N Roll Flea Market to grab those alternative moms the most metal gifts from local vendors. They have everything you need to stay metal: from CDs, vinyls, T-shirts and more. Rock on, y'all! 🤘
Saturday, 5 p.m.
13933 Northwest Blvd. 
Find yourself in Calallen Wildcat territory with money to burn and the pressure to impress mom with something this weekend? (OK, seriously, how many times can I put a spin on that?) Head over to Calallen Market Days to find that one-of-a-kind item from local vendors and businesses.
Saturday, noon
Remember how school always helped us make things for mom for Mother's Day? Well, here's something scent-sational! Craft your own custom candle and scent at this $40 workshop at Nueces Brewing. Your mom's sure to love something hand crafted and made with love. (Plus, a pint of your favorite Nueces Brew is included with the class.) 
Saturday, 5:30 p.m.
Get in touch with nature and learn more about our local protected estuary habitats at the once-per-month Delta Discovery Picnic. Bring a picnic basket and blanket for an evening of exploration. To register for the picnic or learn more, click here.
Saturday, 6 p.m.
WOO!* Texas Wrestling Cartel returns this Saturday with 'Trust No One.' Catch appearances from WWE Hall of Famer and NWA star Ricky Morton, NWA's Kerry Morton, Impact star MOOSE, and more. Tickets start at $25. (*I am not well-versed in wrestling, y'all, so I gave it my best shot.) 
Saturday and Sunday, 9 a.m. to 6 p.m.
Getting mom a bouquet is so passé. Instead, why don't you bring mom to the flowers? Mothers receive free admission to the South Texas Botanical Gardens this Saturday and Sunday, May 13 and 14. All she has to do is say, "Moms love Flowers!" at the Visitor's Center Check-in, and her admission is free. 
Sunday, 7:30 p.m.
OK, so, you didn't make it to any of the markets … or you just can't find the perfect gift. Try this on for size: Treat mom to a night of local live music at a special Mother's Day CC Songwriters Showcase at House of Rock, featuring Garrett Weiland and Jimmy Wilden, Justin Farren and Andrew Delaney, and Kris Schultz. Tickets are $10 each.
Hey besties! Have you got the deets on an event you'd think we'd be interested in? Email righton@rightoncorpus.com and diandraspicak@gmail.com. Follow us on Facebook and Instagram @rightoncorpus, and DM us there, too! We're always looking for new things around the Coastal Bend.