OK, there are a lot of heavily-anticipated movies coming down the pike. Will many of them blow? Most likely, yes. Are several of them comic book movies, sequels, reboots or remakes? You betcha.
Listen, this is what Hollywood does: gets us hyped for the same ol' same ol', as audiences hope upon hope that some of these will at least be halfway decent. So, let's just skip what's happening in January and February (we all by now movies that come out during those months are hella awful) and list the 25 movies that will no doubt be the big draws at the multiplexes.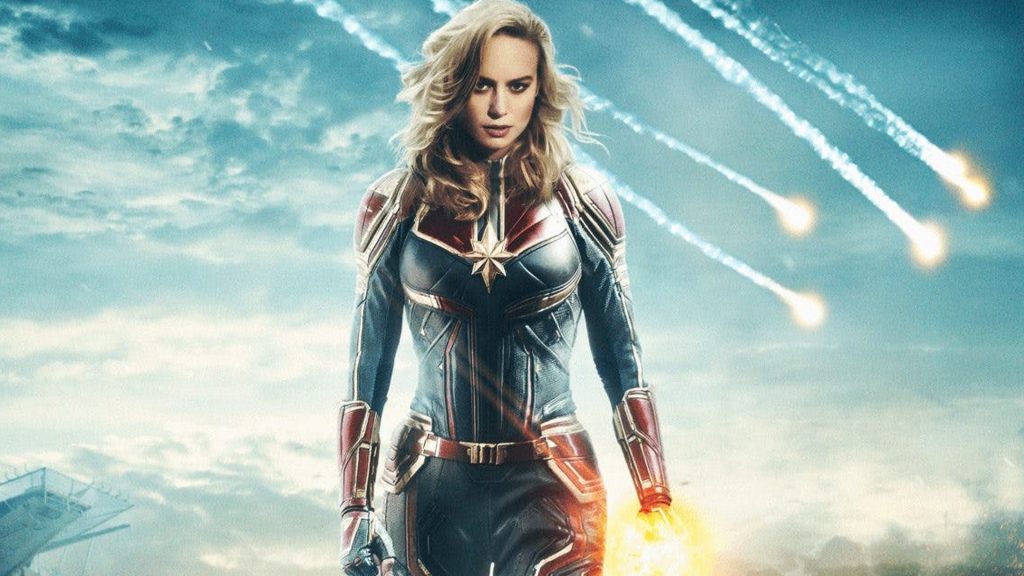 Captain Marvel
(March 8)
The first Marvel movie of the year is a long-overdue one: the hero who is front-and-center is actually a heroine. Brie Larson stars as the titular superwoman who may be the key to bringing back the Avengers who were snapped away in Infinity War.

Us
(March 22)
Jordan Peele, the man who found a way to scare the hell out of people and comment on race relations in America with his Oscar-winning hit Get Out, returns with another creepy joint, about an upscale Black family who meets their strange, dangerous doppelgangers.

Dumbo
(March 29)
This year, Disney will be dropping multiple, live-action versions of their animated classics, and the first one out the gate is director Tim Burton's reimagining of the flying-elephant favorite, starring Colin Farrell, Michael Keaton, Danny DeVito and Eva Green.

Shazam!
(April 5)
Even though Warner Bros. is still riding a wave (pardon the pun) with the successful Aquaman, the studio already has this DC comic-book title ready to go. This one is about a kid who discovers he can turn into a full-grown superhero (Chuck's Zachary Levi).

Hellboy
(April 12)
Even though it seems like those Guillermo del Toro-directed Hellboy movies came out just a few years ago, here we come with the reboot. This time, David Harbour (Stranger Things) takes over the role of the buff-as-hell, supernatural superhero.

Avengers: Endgame
(April 26)
According to IMDb, the plot of this MCU swan song is unknown. But, if you saw Infinity War, you basically know what's gonna happen: the remaining Avengers find a way to get back their superhero buddies while finally putting a stop to Thanos.

John Wick: Chapter 3
(May 17)
The latest installment in Keanu Reeves's insanely violent hitman saga has Reeves's legendary assassin trying not to get wiped out by everybody since getting a $14 million price tag on his head. Halle Berry will be around to guide him on his journey.

Aladdin
(May 24)
Here we go again with another Disney redo of a beloved animated fave. This time, director Guy Ritchie is in charge of giving us his live-action take on the Oscar-winning, musical fantasy, with Will Smith assuming the role of the unpredictable genie.

Godzilla: King of the Monsters
(May 31)
If that last Godzilla movie was underwhelming for you, the sequel has the iconic monster doing battle with his equally legendary foes: Mothra, Rodan and King Ghidorah. Millie Bobby Brown from Stranger Things is also in this movie, doing something.
Rocketman
(May 31)
Bohemian Rhapsody has now garnered both financial and award-winning success. So there's a definite possibility this surreal, Elton John biopic (directed by Dexter Fletcher, who took over on Rhapsody when original director Bryan Singer got fired) will be just as triumphant.

Dark Phoenix
(June 7)
It looks like 20th Century Fox is gonna keep dropping X-Men movies until they go back to making these right. Jennifer Lawrence, James McAvoy and Michael Fassbender return, as Sophie Turner's conflicted Jean Grey turns into the title character.

Men in Black: International
(June 14)
Since Chris Hemsworth and Tessa Thompson worked together so well in Thor: Ragnarok, why not bring back the Men in Black franchise and drop them in it? This installment has them as London-based agents facing off against renegade alien beings.

Toy Story 4
(June 21)
Just when you thought Woody, Buzz and the rest of them would be put up in storage forever after the last one, your favorite toys go on yet another adventure where they come into contact with some new playthings (wait until you meet Forky!).

Spider-Man: Far From Home
(July 5)
Call this one Spider-Man's European Vacation, as Tom Holland's web-slinging superhero travels to Europe with his classmates and ends up getting back into saving-the-world made once Jake Gyllenhaal's mysterious Mysterio shows up.

The Lion King
(July 19)
Oh yeah — this is the Disney live-action redo everyone is waiting for. The Jungle Book's Jon Favreau returns to direct this one, with Beyonce, Donald Glover, Seth Rogen, John Oliver and James Earl Jones (returning as Mufasa!) taking on voice roles.

Once Upon a Time in Hollywood
(July 26)
The latest movie-referencing opus from Quentin Tarantino will be centered around something that actually happened: the Charles Manson murders. Brad Pitt, Leonardo DiCaprio, Margot Robbie and Al Pacino are just some of the folk in the all-star cast.

Fast & Furious presents: Hobbes and Shaw
(August 2)
Let's be honest: A bunch of you still go see the Fast & Furious movies because of The Rock. Well, he's got a spin-off all to himself, as teams up with Jason Statham's rogue Shaw to take down an international terrorist (Idris Elba)

It: Chapter Two
(September 6)
The Losers Club is back to go head-to-head with that damn killer clown. But, this time, they're grown-ass adults. James McAvoy, Jessica Chastain and Bill Hader are just a few of the familiar faces who take on the kids' mature form.

Joker
(October 4)
We all knew, in this cluttered, comic-book world we live in, the Joker would have a standalone film at some point. Joaquin Phoenix plays the iconic supervillain in this origin story, directed by Todd Phillips of the Hangover movies, for some reason.

A Beautiful Day in the Neighborhood
(October 18)
After the success of Won't You Be My Neighbor?, the acclaimed Mister Rogers documentary from last year, you knew a biopic on the man would be just around the corner. And you also knew the only actor who could play dude was none other than Tom Hanks.
Untitled Terminator Reboot
(November 1)
Well, we got another Terminator film coming up, with Arnold Schwarzenegger once again appearing to give his stamp of approval. LInda Hamilton is also back, reprising her role as Sarah Connor. And that's all we know at this point.

Frozen 2
(November 22)
Yes sir — Anna and Elsa, those damn singing sisters, are coming in from the cold to give us another installment of the snowy, animated-musical franchise. So, expect a whole new batch of songs that your kids will want to hear ALL THE FRIGGIN' TIME!

Cats
(December 20)
After being on Broadway, like, forever, there will finally be a film adaptation of Andrew Lloyd Webber's feline musical. Tom Hooper (Les Miserables) is directing, and the cast will include Jennifer Hudson, Taylor Swift, Dame Judi Dench, James Corden and Jason Derulo.

Star Wars: Episode IX
(December 20)
After Rian Johnson saved or destroyed (it depends on who you talk to) the Star Wars franchise with The Last Jedi, J.J. Abrams returns to take over the reins for the allegedly final, still-wrapped-in-secrecy installment of the Skywalker saga.

Little Women
(December 25)
The latest film from actress-turned-filmmaker Greta Gerwig (Lady Bird) is yet another adaptation of Louisa May Alcott's novel, with Saoirse Ronan, Emma Watson and Timothee Chalamet acting alongside Oscar winners Meryl Streep and Chris Cooper.