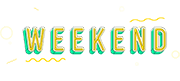 It's officially my favorite season: Summer! But, I swear, summer woke up and chose violence. Have y'all *felt* the heat indices? I've spent my days working from the pool – that's right: from. It's too hot to sit outside and melt. Don't let these egregious temps keep you inside the house this weekend though! Here's what should entice you to venture forth in the Coastal Bend this weekend: 
Friday and Saturday, 4 p.m.; Sunday, 3 p.m.
Water's Edge Park
This family-friendly event will feature a variety of live music artists playing each weekend at three locations on The Great Lawn at The Water's Edge, 602 S. Shoreline Boulevard. Food trucks will be onsite offering a wide variety of food for purchase. Hang out, play games, and enjoy the beautiful bay with family and friends.
Friday, 6:30 p.m.
Friday yoga in the brewhouse is lookin' a little neon this week. Wear your brightest, most neon clothes for this hatha-style yoga class under black lights. Get a core workout by trying your hand (er, hips?) at hula hooping. Sign up with instructor Renee via Venmo @reneegongora, CashApp $reneegongora1, through PayPal online at satyaspacewithrenee.com, or by calling or texting 361-945-0502.
Friday and Saturday, 7:05 p.m.; Sunday, 5:05 p.m.
Take me out to the ball game, y'all, if only to see our Hooks take on the (arguably the best-named team in the league) Sod Poodles. Side note: I'm never calling a prairie dog anything other than a sod poodle ever again. Show up early (doors open at 5:35 on Friday and Saturday and 3:35 on Sunday) to come home with sweet Astros swag for Cumbias weekend. Grab an Astros coaster set on Friday and stay late for the weekly fireworks show. Snag a Framber Valdez replica jersey Saturday, and Sunday kids 12 and under receive a Hooks kids jersey. Sunday's also dollar day with $1 hot dogs, sodas, and candy. 
Friday, sunset
Cole Park
Scoop up the kiddos for a Friday night feature at the Cole Park Anderson Amphitheater. The cinema series kicks off this Friday and runs through August 11. Audiences can expect a summer lineup filled with action, adventure and laughs. The films are family-friendly and closed-captioned. What's showing this week? 'Marcel the Shell with Shoes on.' Follow the Bay Jammin' Concert & Cinema Series Facebook page for the full summer lineup.
Friday, 9 p.m.
Put your karaoke skills to the test and win some prizes at Gameshow Karaoke! Hand me the mic and move over Jimmy Fallon; I'm all about sangin' my way to the top. Contestants will sing a song of their choice from wherever the roulette wheel lands; impress the audience and move up the ranks. Competition starts at 10 p.m. sharp, so get to House of Rock early to sign up! Did we mention the cash prizes?
Saturday, 11:30 a.m.
Nueces Brewing Co.
Break out your best 90's gear and take it back to the best decade to grow up in at Nueces Brewing this Saturday to celebrate their fourth year of business! Like, this is one bash I'd totally be buggin' if I missed. Warm up your thumbs for the Mario Kart tournament, and roll in with your homies for some 90's trivia. It's gonna be da bomb. 
Saturday, noon to 7 p.m.
Downtown
Bring an empty stomach and sample all the food from local food trucks at Saturday's Shoreline Food Truck Festival. Make a day of it by jamming to local musicians and shopping at local vendors. Proceeds benefit the First United Methodist Church.
Saturday, 2 p.m.
Immerse yourself in Asian culture and celebrate their richness and diversity by diving into their unique poetic styles. Learn how different Asian cultures harness the power of words to captivate and enchant through imagery and voice. Share your own poem at an open mic. Sign up for the forum here. The event is free to attend with the standard admission price.
PRIDE MONTH EVENTS
All June long, celebrate love and diversity and show off your Pride! There are plenty of events honoring the LGBTQIA+ community, from drag shows to art shows, paw-rades and proms. Allies, of course, are invited. Our friends at Pride Corpus Christi have a full list up here, but check out some of these events this weekend:
Produce® Bar & Gallery and Joey Gonzalez bring you a month-long LGBTQIA+ art exhibit that delves into the power of dreams as a catalyst for change and self-discovery. The exhibit showcases a diverse array of artistic expressions that explore queerness through the conscious, subconscious, and unconscious self. Check it out at Produce® Bar & Gallery, 419 Peoples St.
Head to The Bay Jewel on Friday at 9 p.m. for a "grotesque" display of talents starring Salem Martinez, Arson Nick, Christopher Winscott, Deja the Clown, Jace Schmidt, and Robyn Valentine. Shop a killer market featuring local vendors and groove out to music provided by Lvrboy Meta. Tickets available on Eventbrite.
Head to House of Rock on Saturday for a night of fabulousness and glam. Who won the most votes this year? You'll have to see for yourself at the second annual Glammy's. Isis Paris York hosts this glamorous event that features local performers. The glam starts at 7 p.m., with doors opening at 6 p.m.  Free general admission.
🌈 DYSPHORIA – POETRY COMPETITION
Dysphoria: noun, a state of unease or generalized dissatisfaction with life. Word of Mouth presents "DYSPHORIA," a pride-themed poetry competition Saturday at 6 p.m. at Cafe Calypso downtown. Why "dysphoria"? In their words:  ..in witnessing the testimony of so many prevailing voices in the lgbtq+ community, it's clear that those who experience gender dysphoria are anything but "dissatisfied with life".  How do you define dysphoria? Bring any piece, pride-themed or not, and $10 to compete. And, if you're not a wordsmith, it's free to watch and support. 
Join All Saints' Episcopal Church on Sunday at 10:30 a.m. for a warm welcome, music, art and prayers as the congregation celebrates God's love and inclusion in honor of Pride Month. A reception will follow the service.
Head down to Unitarian Universalist Church on Sunday from 1-5 p.m. for the Corpus Christi LGBT family day, featuring a free book giveaway, a bird show by Marcus Lozano of Feathered Friends & Co., and a reading by writer Michael Quintana. The day promises food, games and fun for the whole family.
Celebrate all month long
with Pride Corpus Christi. For more Pride Month events,
check out this list
on the Pride Corpus Christi website. 
Sunday, noon to 6 p.m.
Feeling a tad off balance as we melt our way through June? Need some extra guidance from your spirit guides? Just like The Fool tarot card, all you have to do is take that first step: Get your chakras realigned, have your tarot cards read and pick up some spiritual items at the Angel Light Psychic and Healing Fair. Grab a drink from the cash bar, open up your third eye and raise your vibrations at this free event Sunday.
Sunday, 2 p.m.
Feeling lucky? Put up some cash at the Annex's monthly Chicken Shiz Bingo. Pick your square, and if the chickens bless your square with some shiz, you win! Easy peasy. First come, first served for tickets. A portion of the winnings will benefit Paws & Claws of the Coastal Bend. 
Sunday, 2:30 p.m.
Warm up your gritos, y'all, and head to House of Rock on Sunday to catch five local mariachi bands take the stage. Celebrate your Sunday funday with food, drink and the sweet serenades of guitars, guitarrons, trumpets and violins. I mean, what South Texan doesn't love a mariachi tune? Grab your $10 ticket here.
Sunday, 7:30 p.m.
Cowabunga dudes! The surf's up and the movie's on at the Executive Surf Club. Gather the whole fam, including the pups, for a free movie every Sunday around sundown on the Surf Club patio – and, of course, there'll be free popcorn. This week's screening: 'Blue Crush.'
Hey besties! Have you got the deets on an event you'd think we'd be interested in? Email righton@rightoncorpus.com and diandraspicak@gmail.com. Follow us on Facebook and Instagram @rightoncorpus, and DM us there, too! We're always looking for new things around the Coastal Bend.